At the Skywalker estate, everyone has been busy.



Leia is upstairs getting a bottle for Bail and trying to potty train him.


The grown-ups are busy climbing the career ladder. Leia is now a Senator. Han is still stuck at smuggler until he gets the last mechanical and creativity points. Luke has topped out, thanks to some good choice cards.

The boys have been busy growing up.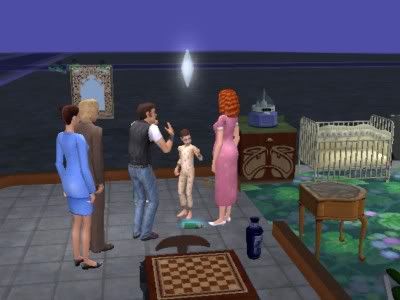 Molly Weasley was over for a visit when Bail decided to grow up. Bail wasn't the brightest crayon in the box. It took forever to potty train him. He only left toddlerhood with 3 skill points to his half-brother/cousin's 8 points.






Anakin grew up well, reaching teendom and taking a job on the Hogwart track as a prefect.



Luke's been busy on the Law enforcement track. He was promoted to the SWAT Team.
But there's trouble




So cute in his kevlar



He arrived home with the terrific news he'd been promoted to Chief of Police, after rappelling into a building fuill of evildoers and rounding them up singlehandedly.



Han congratulated him, a bit too enthusiastically, at the wrong time.



It's bad form to be making out on a public street. Especially when your girlfriend is coming home from a long day in the Senate.



Busted.

Leia's not speaking to either of them at the moment. She's not sure who she's madder at.



But Luke still manages to get promoted to Captain Hero and now he flies to work.